Shapeoptics has produced high fluorescence filter sets in Singapore  by high-tech optical thin film technology for Covid-19 in PCR application. 
A set of optical fluorescent filters for selective excitation and detection of fluorescence typically consists of a minimum of three components: an excitation filter, a dichroic beamsplitter ("dichroic mirror") and an emission filter ("barrier filter"). The excitation filter selectively transmits a portion of the spectral output from the light source. The dichroic beamsplitter then reflects the selected light, directing it to the sample. Fluorescence emission photons traveling from the sample towards the detector are transmitted by the dichroic beamsplitter, while excitation light reflected back from the sample is diverted out of the detection light path. The emission filter blocks unwanted spectral components of the emitted fluorescence (e.g., sample autofluorescence) as well as any residual excitation light.
Our Fluorescent Filter Sets In Singapore Testing Process
High filter performance index requirements (4 and 6 filters working)
Wavelength positioning Accuracy:+/-2nm , Noise Reduction:<1.0E-8 Channel crosstalk:<1.0E-6 (Production:Complex and difficult )
Plasma physics magnetron sputtering physical vapor deposition reaction
Our Fluorescent Filter In Singapore Benefits
1. 500 coating layers
2. Nanoscale
3. Optical film
Fluorescence filter is the center component of PCR detector
Including Excitation,Emission,Dichroic filter
Suitable for kinds of fluorophore
Deep Blocking >OD6
High Transmission>95%
Sharp Slope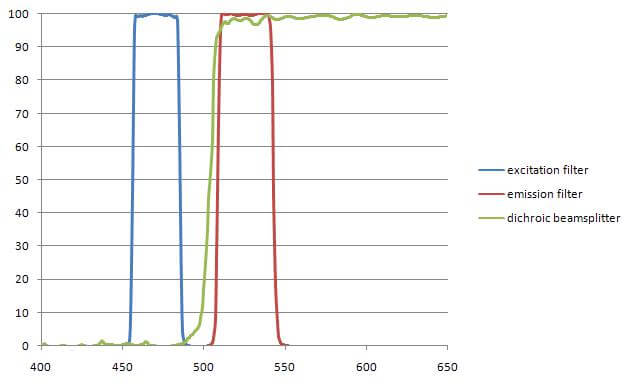 Typical fluorescence filters can be customized, if you need technical support regarding to fluorescence filter in Singapore, please contact our technical support.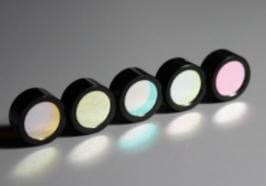 Note:
EX means Excitation filter EM means Emission filter DM means Dichroic filter