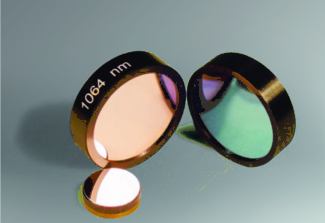 Laser Filter Description
Laser-Filter are used to reject a wavelength or range of wavelengths while transmitting wanted wavelengths for a number of laser applications.  Shapeoptics offers a wide range of Laser line Filters suited for many laser system needs.
Focused on the laser's resonance, laser line coating are narrow bandpass coatings that reduce the background plasma and secondary emissions that often contribute to incorrect signals. These filters can be used to increase the monochrome of the light output when utilizing diode lasers and LEDs. Taking gas lasers as an example, these filters can eliminate plasma in the deep blue wavelength region.
 Applications
●Laser-based Fluorescence Instrumentation
●Raman Spectroscope
●Analytical and Medical Laser Systems
 Applications Benefits
● Ultrahigh Peak Transmission T >80%
● Excellent Blocking (OD>4.0): Our laser line bandpass filters cover most of the common laser lines and feature excellent out-of-band blocking of less than 0.01% (10-4). The highly reflective side of the filter should generally face the source, minimizing the thermal load on the blocking glass and epoxies.
● Dielectric Coated with IBS Technology
Product Specs
·        Minimum Size:Φ2mm or 2mm×2mm
·        Maximum Size:Φ50mm or 55×55mm
·        Surface quality: 80-50
·        Damage threshold::20J/cm2,10ns pulse
·        Typical wavelength:488,532,632.8,788,808,980,1064,1570nm
·        Environmental conditions: Per Mil-STD-810E, Method 507.3
·        Operating Temperature:  -40℃- +60℃
·        Deep laser blocking / High transmission in VIS wavelengths
OD > 5 at both Ruby (694nm) and YAG (1064nm) lasers
·        Pinhole free over the clear aperture
Pinhole cannot be allowed for eye safety.
·        Excellent environmental durability
·        MIL-specifications compliant
·        Interference laser filters film coated by ion assisted deposition has excellent
durability against harsh environment.
Shapeoptics  has launched to make and supply optical laser coating for military applications. Laser protection coatings can block both Ruby (694nm) and YAG (1064nm) lasers deeply and transmit visible wavelengths effectively. We can arrange the filter with suitable size for binocular or coat for another kind of laser. Custom filters are available for both large manufacturing needs and in prototype volumes. Contact us for more information or to arrange a quote.