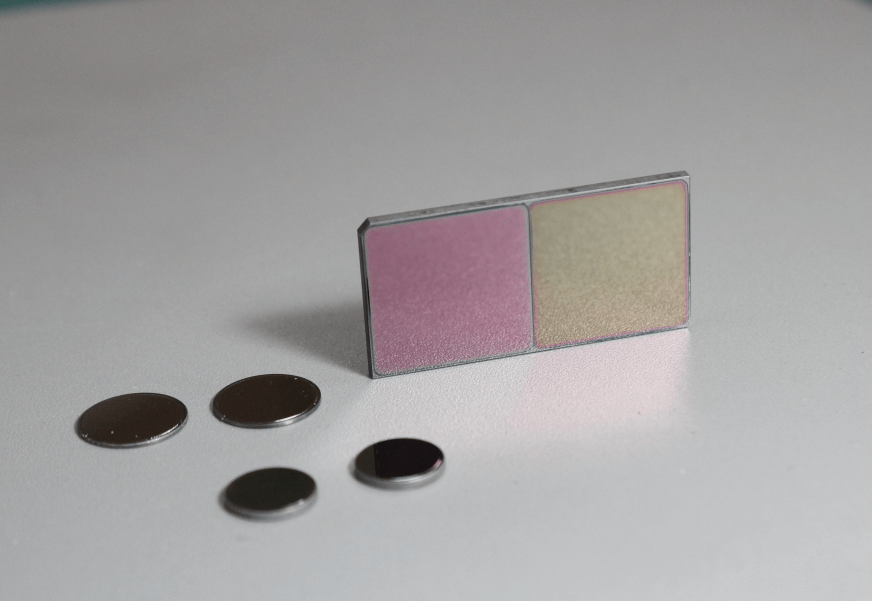 Sensor and Detector Filter Description
Shapeoptics has developed technologies to manufacture the Sensor and detector filter with higher efficiency which can be  used for online detecting instrument of infrared optical type.
All optical sensor and detector filter fundamentally operate in a similar manner;
a light source illuminates the sample of interest
the sample interacts with the light through absorption, reflection, transmission, or an energy exchange phenomenon such as fluorescence or inelastic (Raman) scattering
the output from the sample is received at a detector
In order to discriminate the analyte of interest, wavelength selectivity must be enabled at the illumination source, the detector, or in some cases, both.  Multi-layer dielectric optical filters are a passive, robust, highly selective, and economical means of providing wavelength selectivity to these optical sensor/detectors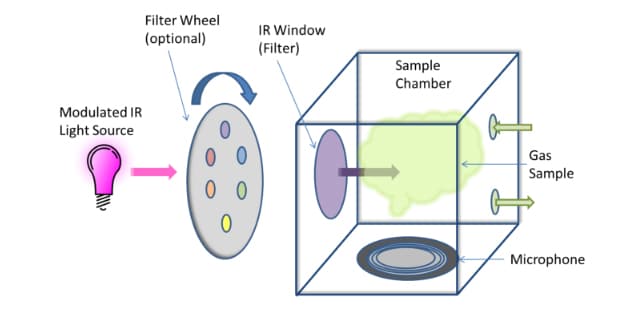 Sensor and Detector Filter Applications
●Water Quality Analysis
●Toxic gas detection
●RangingLaser
●Atmospheric monitoring
●Gas detection filter
Application Mid and long wave infrared gas absorption peak wavelengths
| Gas Molecule | Peak wavelength (µm) |
| --- | --- |
| H2O (water) | 2.7 |
| CH4 (methane and other hydrocarbons) | ~3.3-3.5 |
| CO2 (carbon dioxide) | 4.26 |
| CO (carbon monoxide) | 4.67 |
| NOx (nitrogen oxides) | ~5.3 |
| N2O (nitrous oxide) | 7.73 |
| O3 (ozone) | 9.0 |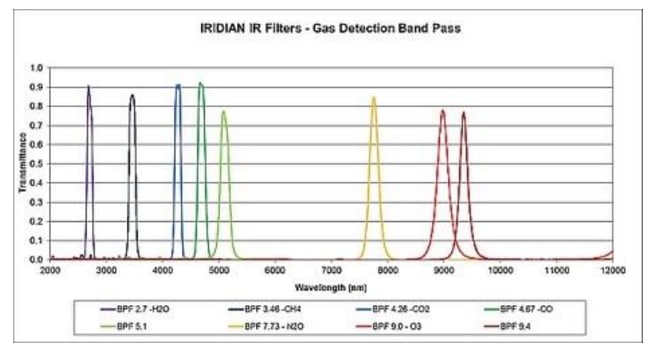 Our detector filters features a dielectric coating on fused silica and are designed to compensate for the wavelength-dependent responsivity of silicon photodiodes. Improving the response uniformity is beneficial for applications where a broad spectral response is desired. These filters are suitable for reducing dynamic range requirements for detector system electronics and can be used to improve the performance of applications dependent on feedback from optical power monitoring. The filter is designed to reshape the responsivity rather than to attenuate the light. We suggest combining the response-flattening filter with neutral density filters or edgepass filters when attenuation is required.
Benefits
●High transmission
●sharp slope
●High contra
Products
●Dimension: minimum to 2mm -55mm
●Dimension tolerance: ±0.01mm
● Surface quality: 80-50
Shapeoptics SWIR, MWIR and LWIR bandpass filters are designed to optimize detection of spectral emission lines, they are used for Sensor and Detector .
These filters are deposited using energetic sputtering, which makes them very hard and durable.
Reliability as per MIL-C-48497A
RoHS compliant